---
| | |
| --- | --- |
| Saturday, November 15, 2014, 5:26 PM | |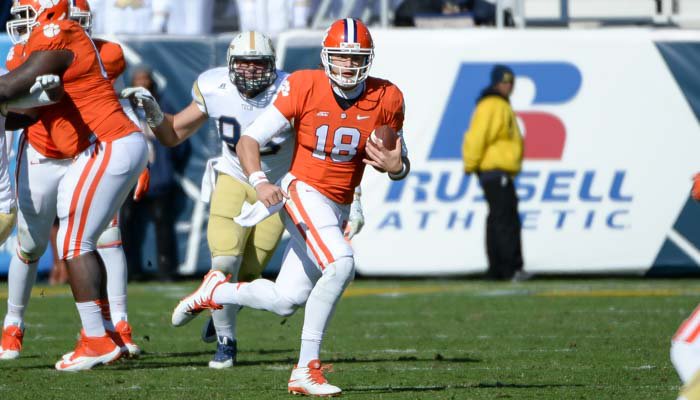 ATLANTA, GA – What started out as a cold but sunny day in Atlanta turned into a depressing day clouded in quarterback controversy. At least in the eyes of the fans, because Clemson's coaches weren't willing to admit that third-stringer Nick Schuessler

Nick Schuessler
RS So. Quarterback
#12 6-3, 195
Grayson, GA
View Full Profile might have a shot at starting next week.
Freshman Deshaun Watson

Deshaun Watson
Fr. Quarterback
#4 6-3, 204
Gainesville, GA
View Full Profile suffered what could be a torn ACL in the first quarter of Saturday's desultory 28-6 loss at Georgia Tech, and senior Cole Stoudt

Cole Stoudt
Sr. Quarterback
#18 6-4, 231
Dublin, OH
View Full Profile was ineffective in relief.
Third-stringer Nick Schuessler came on in relief of Stoudt and finished 4-for-4 for 19 yards, but really didn't get a chance to run the offense with Georgia Tech blitzing almost every down.
With Stoudt's ineffectiveness and lack of confidence, will there be a quarterback battle in Clemson this week and next?
Morris said he believes that Schuessler needs to get at least an extended look.
"I believe so, yes. I don't know that for a fact at this point, but he is going to have to have plenty of reps," Morris said after the game. "Now, am I saying that it is wide open right now? We don't know that right now. We are going to go back and reevaluate things and look at things. Cole won the starting job back in April and we have to get back to that level and execute the base offense."
I asked head coach Dabo Swinney

Dabo Swinney
Head Coach
View Full Profile if the quarterback spot – should Watson's injury end up being as serious as fear – would be up for grabs.
"I have no idea. We've just got to go back to work," Swinney said. "It was a very disappointing game. We've got to go back to work and figure it out. We'll go back to work on Monday and we'll figure it out. I certainly don't want to make that decision today. We've got to get back to the drawing board there to put a good plan together and see if we can get one of those guys to go out and play well for us."
He then defended his senior quarterback and said it wasn't fair to put the offensive woes all on Stoudt's shoulders.
"Y'all saw the game. It's not on Cole. Cole didn't have his best day," Swinney said. "We all have ownership in this day, period. You wish we could've executed better in certain spots but we didn't Cole's led us to four victories, but we didn't get it done today. The bottom line is we can't turn the football over. We were very simple in some things but we just didn't do the basics of our system. It caught us. It bit us in the rear, especially against a team like that. Again, two scores and another when we had field position. Your' not going to overcome that against many teams and certainly not against a team like Georgia Tech."