TigerNet

is the oldest and largest Clemson Community online with 151,555 members, 57,028 news articles and 28M forum posts.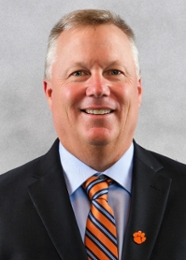 John Rittman
Position:
Head Coach • Second Season
Born:
October 5, 1963
As a Player:
Three-year letterwinner in baseball as an outfielder at NMSU
College:
New Mexico State
Coaching:

2017-Present:

Clemson Head Coach

2015-2017:

Kansas Associate Head Coach

1997-2014:

Stanford Head Coach

1993-1996:

Washington Assistant Coach

1991-1992:

Minnesota Assistant Coach

1988-1990:

Oregon Assistant Coach
B I O

John Rittman, a longtime head coach and member of the USA Softball Women's National Team coaching pool, was named the first Head Coach of Clemson Softball on Nov. 3, 2017. Rittman came to Clemson after serving as the Associate Head Coach at the University of Kansas from 2015-17. Rittman joined the Jayhawks after 18 seasons as the Head Coach at Stanford University and 10 years on the United States National Team coaching staff (2001-08, 2016-18). In its inaugural season, Rittman transcended Clemson into a nationally-respected program. Rittman guided Clemson, which was predicted to finish in 10th in the conference, according to the 2020 ACC preseason poll, to a 19-8 overall record, including 5-1 in ACC play. The Tigers, who won both of their ACC series against Virginia and Pitt, won 11 of their final 12 games before the 2020 season was cut short due to the coronavirus pandemic (COVID-19). Additionally, Clemson went 14-2 at Clemson Softball Stadium, which included a 13-game home win streak that spanned 25 days. Rittman and the Tigers generated plenty of enthusiasm among the Clemson faithful as the first-year program ranked fourth nationally in attendance (24,860) and fifth in average attendance (1,544/game) in 2020. On March 3, the National Fastpitch Coaches Association (NFCA) announced the first-year program received votes (10) in the fifth edition of the 2020 USA Today/NFCA D1 Top 25 Coaches Poll. The announcement came after Clemson defeated then-No. 14 Georgia, 4-1, on Feb. 26 at Clemson Softball Stadium before sweeping the Cavaliers to win its first-ever ACC series. Under the direction of Rittman, three Tigers in Valerie Cagle (twice), Marissa Guimbarda and Logan Caymol earned ACC weekly honors on four occasions, the most by any ACC program in 2020. Cagle, a true freshman in 2020, was second in the nation in RBIs (36), while Guimbarda finished the season fourth nationally in home runs (11). Both Cagle and Guimbarda led the ACC in RBIs and home runs, respectively. At Stanford, Rittman and the Cardinals recorded 18-consecutive winning seasons, made 16-straight NCAA appearances, notched 13 40-win seasons and produced at least one All-American in 15 of his last 17 seasons. As head coach, Rittman accumulated a 750-351-3 overall mark, coached a national player of the year, 16 All-Americans, earned five Super Regional appearances, two Women's College World Series appearances and maintained a spot in every regular-season NFCA top-25 poll for more than a decade. Rittman served on the staff of the USA Softball team which won gold at both the 2016 Women's Softball World Championship and the 2017 Pan Am Qualifier. He also worked with Team USA from 2001-08, coaching the 2004 Olympic gold medal winners in Athens and the 2008 silver medalists in Beijing. Team USA also won gold medals at the 2002 and 2006 World Championship and the 2003 and 2007 Pan Am Games. Prior to being named head coach at Stanford, Rittman spent four seasons as an assistant coach at the University of Washington, focusing on hitting and defense. Rittman helped start the program and, within just four seasons, the Huskies had earned a No. 1 national ranking, won the 1996 Pac-10 Championship, made three NCAA Tournament appearances and notched a runner-up finish in their first trip to the Women's College World Series. Washington became the first team since Texas A&M (1983) to advance to the championship game in its first appearance at the WCWS. Before his appointment at Washington, Rittman spent two seasons as an assistant at the University of Minnesota. During his second year, the Golden Gophers won the Big Ten Conference with a 20-4 league record. The Gophers set team and individual records in almost every offensive category. The Minnesota squad led the nation in hits and total bases en route to a No. 15 national ranking. Rittman also helped produce two Golden Gopher All-Americans. From 1988-90, Rittman was an assistant coach at the University of Oregon. During his stay, the Ducks played in the 1989 Women's College World Series, set several team and individual offensive records and produced an All-American. Rittman graduated from New Mexico State with a degree in journalism in 1986. He was a three-year letterwinner in baseball as an outfielder at NMSU after transferring from Yavapai Junior College in Prescott, Arizona. Rittman and his wife, Lorie, a former softball player at the University of Oklahoma, are the parents of Justin, a UCLA graduate and former fullback for the Bruins, and Jake, a junior punter at Notre Dame. Year School Overall Pct Conference Standing NCAA Postseason
2020
Clemson
19-8
.704
5–1
N/A
Cancelled due to COVID-19 2014 Stanford 30–25 .545 5–19 8th 2013 Stanford 39–21 .650 13–11 4th NCAA Regionals 2012 Stanford 40–19 .678 11–13 6th NCAA Regionals 2011 Stanford 42–17 .712 10–11 5th NCAA Super Regionals 2010 Stanford 37–19 .661 8–13 T–6th NCAA Regionals 2009 Stanford 48–11 .814 13–8 4th NCAA Super Regionals 2008 Stanford 49–15 .766 11–10 4th NCAA Super Regionals 2007 Stanford 35–21–1 .614 7–13–1 6th NCAA Regionals 2006 Stanford 42–18 .700 10–11 6th NCAA Super Regionals 2005 Stanford 43–16 .729 13–8 T–1st NCAA Super Regionals 2004 Stanford 49–19 .721 13–8 T–2nd Women's College World Series 2003 Stanford 41–26 .612 7–14 T–6th NCAA Regionals 2002 Stanford 44–20 .688 7–14 T–6th NCAA Regionals 2001 Stanford 54–16–1 .761 11–10 T–3rd Women's College World Series 2000 Stanford 45–18 .714 9–12 4th NCAA Regionals 1999 Stanford 40–25 .615 10–18 T–6th NCAA Regionals 1998 Stanford 41–18 .695 17–11 3rd NCAA Regionals 1997 Stanford 31–27–1 .525 10–18 5th All-Time 769-359-3 .680 190-223-1 (.459)

*Courtesy Clemson Media Guide
| | |
| --- | --- |
| | VIDEO HIGHLIGHTS |
Latest John Rittman News
Baseball -

Click the link below to read more!