| | |
| --- | --- |
| ND students sent letter after rushing field after win over Clemson | |
---
| | |
| --- | --- |
| Monday, November 9, 2020, 8:01 AM | |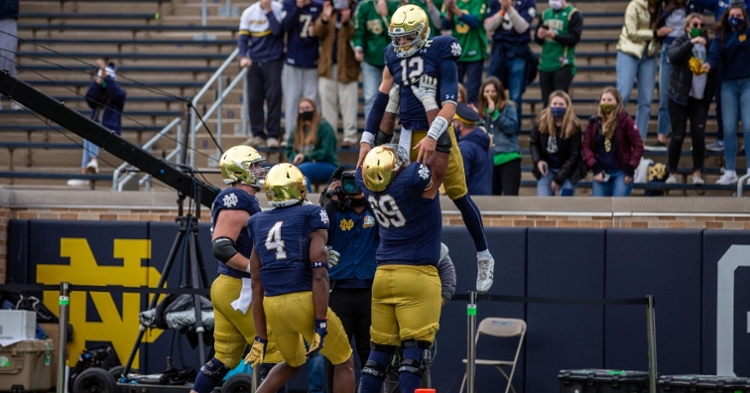 No. 1 Clemson was knocked off 47-40 by No. 4 Notre Dame in double overtime on Saturday night.
After the final play, the Notre Dame fans stormed the field after the historic win over Clemson.
Thousands of Notre Dame fans jumping up and down celebrating together on the field got many outside observers nervous as the country is still in the midst of a pandemic.
On Sunday night, Notre Dame President Rev. John I. Jenkins sent a letter to all students explaining the new guidelines for COVID-19.
"Because we are now even more concerned about the potential for contagion in your home communities as you prepare to travel home at the end of the semester, the University will place a registration hold on the record of any student who fails to appear for testing when asked to do so. A registration hold would mean that you are unable to matriculate or register for classes next semester or receive a transcript," the letter states.
Notre Dame doesn't want students to leave without an exit test.
"Furthermore, you may not leave the South Bend area until you receive the results of your exit test. Again, should we discover that you have left the area, we will place a registration hold on your record."
The University also wants to discourage any parties at this time.
"There will be zero tolerance for any gatherings that do not comport with our health and safety guidelines, on or off-campus. Those found responsible for hosting such gatherings will face severe sanctions."
Letter Sunday night to @NotreDame students. pic.twitter.com/Do29pW1mEN

— Terry McFadden (@TMcFaddenWNDU) November 9, 2020
Notre Dame fans stormed the field after their 2OT win over Clemson pic.twitter.com/mkNnB4mXow

— FOX College Football (@CFBONFOX) November 8, 2020
Notre Dame fans stormed the field after taking down No. 1 Clemson pic.twitter.com/4eyhD0qb8k

— SI College Football (@si_ncaafb) November 8, 2020
I think all 11,011 fans in the stadium not wearing orange and purple are on the field. pic.twitter.com/tIX1thGDAQ

— Eric Hansen (@EHansenNDI) November 8, 2020
Notre Dame beats Clemson and all we can talk about is Covid. It's a frustrating world we live in.

— Adam Gorney (@adamgorney) November 8, 2020
It sucks that in 2020, there was only one thing I thought of when this scene followed Notre Dame's win over Clemson. pic.twitter.com/9FhBDSSZtZ

— David O'Brien (@DOBrienATL) November 8, 2020
"What the hell are we doing?!"@RealJayWilliams & @keyshawn ripped Notre Dame for allowing fans to storm the field after their win over Clemson. #KJZ pic.twitter.com/d21qfMmfzB

— Keyshawn, JWill & Zubin (@KeyJayandZ) November 9, 2020