| | |
| --- | --- |
| Advanced Outlook: Clemson-Miami projections, players to watch | |
---
| | |
| --- | --- |
| Thursday, October 8, 2020, 9:41 AM | |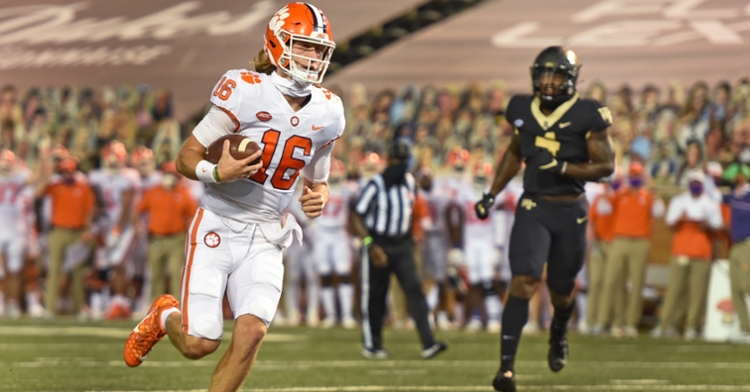 Some early-season questions should be answered Saturday night in Memorial Stadium.
Two teams vying to stay undefeated meet with the No. 1 Clemson Tigers (3-0) and No. 7 Miami Hurricanes (3-0) in the 7:30 p.m. broadcast start (ABC).
So far, Clemson is showing to be as complete a team as any in the nation according to advanced metrics, with top-10 rankings on offense, defense and special teams according to two ESPN rankings.
Miami is a little harder to get a grasp on per the same ratings, with some major disagreement on offense (No. 30 in SP+/No. 6 in ESPN FPI) and special teams (No. 1 in SP+/No. 40 on FPI):
Efficiency ranks: Offense | Defense | Special teams
CU SP+ ranks (No. 3 overall): 3 | 4 | 7
MIA SP+ ranks (No. 9): 30 | 6 | 1
CU ESPN ranks (No. 3): 3 | 10 | 9
MIA ESPN ranks (No. 21): 6 | 12 | 40
(SP+ is a metric from ESPN's Bill Connelly, formerly of Football Outsiders and SB Nation, that combines ratings for the five factors of efficiency, explosiveness, field position, finishing drives and turnovers. ESPN's own measure follows a similar formula to measure team efficiency and is tied to the ESPN Football Power Index.)
Here's some of the players to watch for from 'The U'...
Three players to watch: Miami
QB D'Eriq King
If you clicked on this preview, you've probably seen his name a few times, as King is grading among the best in ACC after his transfer from a high-powered Houston attack (90.2). He leads the Hurricanes' grading both as a passer (88.6) and a runner (73.2; tied with Cam'Ron Harris). His QB rating is second only to Trevor Lawrence in the league (153.85). And despite sacks being taken out of rushing totals at the college level, King still ranks in the top-15 in the league in yards per carry (5.6).
The rub on King early is his passing distribution, where he is incredibly accurate within 20 yards (79.4 completion rate/8.3 yards per attempt/4 TDs) but only 4-of-17 beyond 20 yards (8.2 yards per attempt/2 TDs). For comparison, another league-leading ACC grader in Lawrence is 7-of-13 on those throws with a 19.2 yards per attempt rate. Under pressure, King has been average-to-below-average with a 30.8 completion rate for 73 yards and a TD, while pretty good when facing a blitz with a 62.5 completion rate for 358 yards and three TDs to no picks and 20 first downs in 48 dropbacks (passing or scrambling).
Another caveat on some of the more impressive numbers so far? The defenses faced to this point, which average a 51st-best rating on SP+ -- led by the opener versus UAB (21st) and as low as Louisville's 88th ranking. Clemson will be by far the biggest test for a new offense installation under Rhett Lashlee and a QB in his fourth game with it.
S Bubba Bolden
The redshirt junior is making a big impact for the Miami defense in his first season with major playing time. Bolden picked up ACC player of the week honors in their win over Louisville with a career-best 11 tackles and a forced fumble. He leads the Miami defense from a grade standpoint (77.5), showing solid efforts in run defense (77.5), coverage (74.7) and pass rush (72.9). He has two forced fumbles and seven stops (defined as tackles resulting in failures for offensive plays) in 14 total tackles.
Gimme all the Bubba Bolden in 2020?????? pic.twitter.com/UoTm3fVbgn

— Marsh???? (@hurricanesmarsh) November 20, 2019
RB Cam'Ron Harris
Harris (5-10 210) ranks third in the ACC currently in rushing yards per game (103.67), finding the end zone five times. He's tallied 191 of his 311 rushing yards after contact, with a yards after contact per attempt figure (5.03) that's higher than Travis Etienne currently (4.18). He's also grading well protecting King with a 79.2 pass blocking mark (fourth-highest on the team).
The fastest NCAAF ball carrier from week 2 was @CanesFootball RB Cam'Ron Harris (@polo_man_cam) hit 22.0 MPH in only 6.5 seconds on this 75-yard TD#myRAmaxspeed | ?? @ESPNCFB pic.twitter.com/nUX77UmkjD

— Recruiting Analytics (@RAanalytics) September 21, 2020
(Grades and advanced stats per Pro Football Focus)
Extra point
Miami would like to get into a rhythm that will run Clemson's developing defense ragged. Teams haven't had the greatest of success doing that versus Brent Venables' defense lately.
A year after the program ranked 91st in plays per game, Lashlee's new tempo attack is off to a solid start, running 85 plays against FSU and 79 in the opener win over a solid UAB defense.
Clemson played four of the top-15 tempo teams in college football last year, with Wake Forest (82.9 v. FBS opponents), Syracuse (80.5), UNC (78.3) and BC (75.8) and held them to 18 plays per game under their season average. The Deacs this season were contained to 72 plays in the opener versus Clemson ahead of running 85 the next week at NC State.
In keeping the chains moving, the Hurricanes rank 15th nationally on third down (52.2) up against a top-15 Clemson defense (28.6). Where Venables' group has to tighten up is on the next down, where they've allowed five conversions in eight fourth-down tries (four rushing; one passing) against a multi-faceted Miami group that is 5-of-6 on fourth down. On first down, Miami has been dead-even on passes and runs but have hit explosive passes at a 21.2 rate on throws.
(Plays per game stat via TeamRankings.com; situational stats per CFBStats.com)
The Projections
Despite being a top-7 matchup and College GameDay-featured event, Clemson is universally picked by double-digits here. History certainly isn't in the Hurricanes' favor after getting run 96-3 in the last two meetings with the Tigers.
Miami is 3-0 this year against the spread, while Clemson is 0-3 (per TeamRankings.com). The last time Miami reached these heights, ranked as high as No. 2 in 2017, they preceded to get upset at Pitt (24-14) and then smacked around in the ACC title game by Clemson, 38-3.
Per The Spread, 71 percent of the betting public is liking Miami plus the (relatively) big number, which is currently 14 points. On the heels of Virginia giving Clemson more of a test than expected last week, picking a score in this one may rest just as much on how you view that Cavaliers team than Clemson or Miami's early three-game start. The Tigers, both coaches and players, certainly feel like they were a quality opponent.
There really isn't a consensus on the game by the numbers. ESPN's SP+ is 2-1 picking Clemson games with the spread and like the Hurricanes to cover (Clemson by 11). ESPN's Football Power Index is right at the number with Clemson a two-TD favorite. The FEI metric is a big fan of Tigers with an 18.5-point margin projected.
Does Clemson kick things into gear Saturday night? Is Miami for real? This is an intriguing matchup that has a few more questions than answers until kickoff under the Death Valley lights.
Metrics outlook | Prediction
SP+ projection: 75% Clemson (Tigers by 11.4)
ESPN FPI: 86% Clemson (Tigers by 14)*
FEI: 90.1% Clemson (Tigers by 18.5)
* Point spread from the FPI rankings, which project a margin based on a neutral field.
Doesn't mean Miami will win, or keep it close, but it is interesting in terms of adjusted EPA that the Canes rank higher than Clemson both offensively and defensively.
Adj OEPA Adj DEPA
Clemson 13th 15th
Miami 5th 13th

— Chris Fallica (@chrisfallica) October 7, 2020